Just Corseca Spin Bunny karaoke wireless speaker launched In India
Just Corseca has launched the 'Spin Bunny,' a portable speaker equipped with a microphone. This audio device goes beyond its compact size, serving as a multifunctional audio companion. Additionally, the Spin Bunny comes in a range of captivating color choices. This release follows the recent debut of Just Corseca's Snow Pods TWS earbuds.
The Spin Bunny is specifically designed to complement an active lifestyle, offering a highly compact form factor with a convenient handle for easy portability. Despite its small size, it incorporates the latest Bluetooth V5.0 technology, ensuring uninterrupted connectivity. Additionally, it allows you to take voice calls when paired with your smartphone.
With a 2-inch 5-Watt dynamic driver, the Spin Bunny delivers immersive and high-quality sound, enhancing your music listening or movie-watching experience. You can play your music through your smartphone or laptop, or even load your favorite MP3 onto a TF card for on-the-go music enjoyment.
The Spin Bunny also features a rechargeable wireless microphone with a 500mAh battery, instantly transforming it into a karaoke machine. Moreover, its 2000mAh internal battery allows you to enjoy your party all night long, wherever you choose to take it.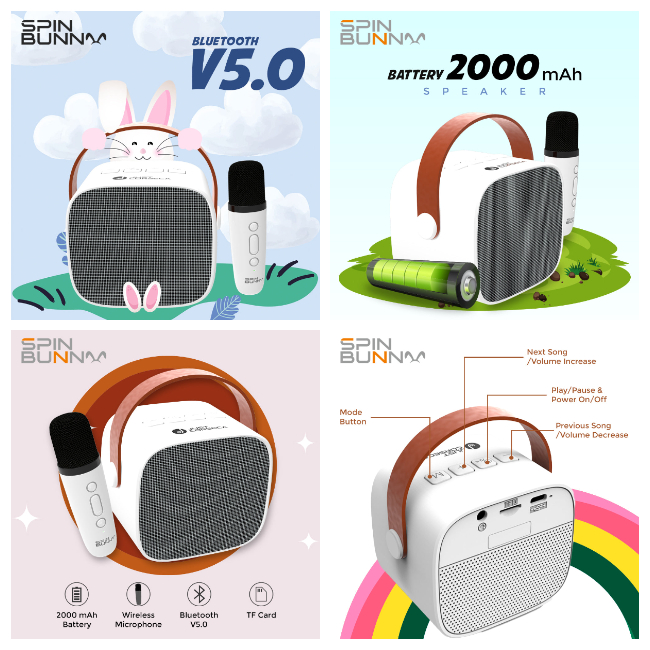 Quick specifications: Just Corseca Spin Bunny Karaoke Wireless Speaker
Wireless Bluetooth karaoke speaker with microphone
Bluetooth V5.0 technology for connectivity and voice calls
2″ 5-Watt dynamic drivers
TF card slot for MP3 playback
Rechargeable wireless microphone (500mAh battery) for karaoke
2000mAh internal battery
Buttons: Mode, Play/Pause/Volume/Previous song
Colors: Blue, White, and Pink
Warranty: 1 year
Pricing and availability
The Just Corseca Spin Bunny Karaoke Wireless Speaker is priced at Rs. 3,999 and comes with a 12-month warranty. It is available in three fashionable colors: Blue, White, and Pink.
The product can be purchased from various channels, including the official website Corseca.in, as well as popular e-commerce platforms like Amazon.in, Flipkart, and Myntra. It is also available through other online and offline retail stores across India.