Simple ONE electric scooter up to 212KM range launched in India starting at Rs. 1.45 lakhs
Bengaluru-based start-up, Simple Energy, unveiled its maiden electric 2-wheeler- the Simple ONE, back in 2021. Today, the company has announced that the scooter has undergone a series of improvement cycles based on the initial feedback received and is finally ready to ship. It added that the scooter has received 1 lakh pre bookings, in 18 months.
It has a patented PMSM motor with up to 8.5 KW peak / 4.5 KW continuous power and 72NM peak torque that can go from 0 to 40kmph in just 2.77 seconds and has a top speed of 105kmph.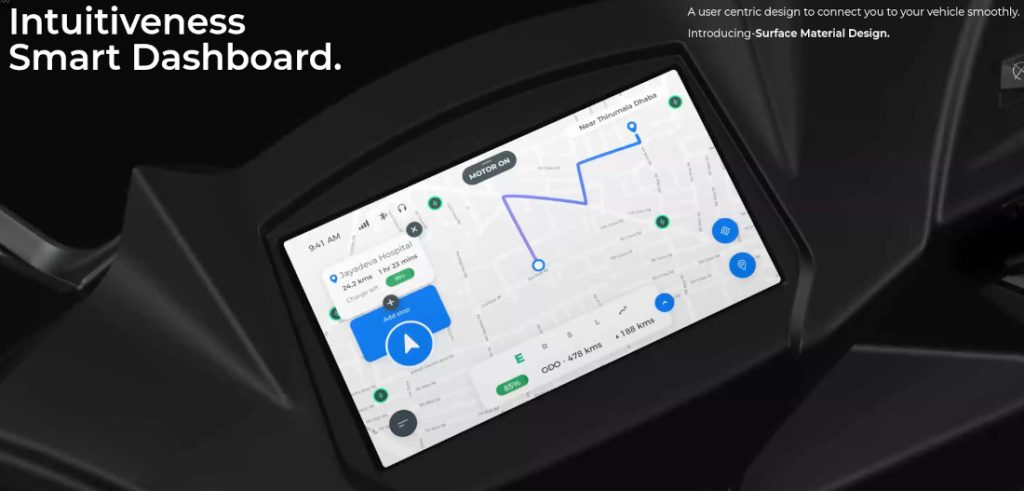 It has a 7-inch (1024×600 pixels) touchscreen, a customizable interface and is 4G and Bluetooth 5.2 enabled to take calls, listen to music on the go and more. There are Four modes – Eco, Ride, Dash and Sonic. The scooter has IP67 ratings for the whole scooter, battery pack and the display and a gradability of 20°.
The Simple ONE has 5KW battery that includes a fixed and removable (portable) batteries that promise 212 KM range in IDC with 6% SoC left. It also has fast charge that can charge at 1.5 km range per min with Simple Loop charging stations. The home charging can charge from 0 – 80% in 5 hours 54 minutes.
It is completely Made-in-India (in line with GOI's vision of Atmanirbhar Bharat) and boasts of having 214 IP portfolio, said the company. This is the first e-scooter to come with a thermal management system, developed collaboratively with IIT-Indore, helping mitigate any thermal runaways, the company adds.
Pricing and availability
The Simple ONE comes in Namma Red, Brazen Black, Azure Blue, Grace White, BrazenX and LightX colours. It starts at Rs. 1,45,000 and goes up to Rs. 1,58,000 (ex-showroom, Bengaluru). This price includes a 750W charger.
It is already available for order and the deliveries will commence from June 6th, followed by other cities in a phased manner, said the company.
Early this year the company inaugurated its new manufacturing plant, Simple Vision 1.0, in Shoolagiri, Tamil Nadu, and has an installed annual capacity of approximately 5 lakh units.
Commenting on the launch, Suhas Rajkumar, Founder & CEO, Simple Energy, said:
Today marks a momentous occasion in the history of our company; an auspicious day that will be remembered for years to come. It represents a milestone that we can all be proud of and serves as a reminder of our collective efforts, resulting in the successful achievement of our goals. This wouldn't have been possible without the ardent support of all our stakeholders, including our investors, who have played a pivotal role in making our vision a reality.
We are excited to commence our journey in the competitive Indian auto landscape, and we will continuously focus on evolving ourselves through insights and learning that we gather from the industry. Going forward, our biggest priority is to facilitate quick deliveries for customers who have been patiently waiting to get their Simple ONE home.
Shreshth Mishra, Co-Founder Simple Energy, said:
Simple ONE is our inaugural offering to Indians and it is definitely an emotional moment for us. The Simple ONE is equipped with an amalgamation of exciting features, unparalleled performance, extended range, and superior comfort levels. We are confident that Simple ONE possesses all capabilities that are required to disrupt the market and will be successful in captivating the consumers' mindset through its superlative driving dynamics. From inception, we take pride in investing the right resources in R&D to develop a product that the customers will be proud of owing and represents the vigor of Indian start-ups to undertake innovation-led product development.