NoiseFit Crew Pro 1.4″ AMOLED display Bluetooth Calling launched at an introductory price of Rs 2199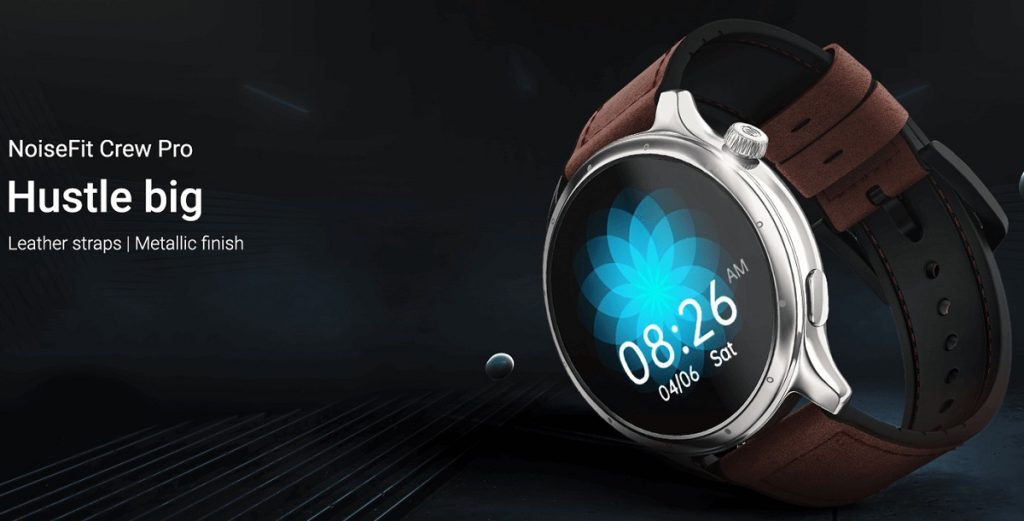 Noise has launched the NoiseFit Crew Pro, a premium round dial smartwatch designed for tech-savvy individuals. This follows the recent release of NoiseFit Fuse earlier this month.
The smartwatch features a sleek metallic build and a leather strap, exuding a premium aesthetic. It boasts a 1.4″ AMOLED display and incorporates TruSync technology, enabling advanced calling through a single chip BT connection. The NoiseFit Crew Pro utilizes BT v5.3 for stable calls with an extended range, while its functional crown enhances user navigation.
This smartwatch offers a comprehensive set of productivity and health monitoring features. With the Noise Health Suite, users can effortlessly track vital health metrics such as heart rate, SpO2 levels, sleep patterns, stress levels, and perform breathing exercises. The built-in Productivity Suite provides easy access to daily reminders and weather forecasts.
The smartwatch ensures uninterrupted movement with its robust battery life of up to 7 days, and its IP68 water and dust resistance guarantees durability in any environment. Noise Buzz enables users to access recent call logs and store up to 10 contacts. Additionally, the NoiseFit Crew Pro offers 120 sports modes, 100+ watch faces, and seamless integration with the NoiseFit App for productivity tools and personalization options.
Quick specifications: NoiseFit Crew Pro
Metallic finish, Leather strap
Functional Crown
1.4″ round AMOLED display, 240×240 pixels, 550NITS of brightness
Bluetooth 5.3
Bluetooth Calling with Noise TruSync technology
Access call logs, store up to 10 contacts via Noise Buzz
100+ watch faces and customizable
24×7 heart rate monitoring, SpO2, sleep tracking, stress management, female cycle tracker
Up to 7 days battery life
120+ Sports modes
IP68 water and dust resistance
Smart features: Notification display, weather and stock updates, camera control, music control, quick reply, smart DND, reminders, calculator
NoiseFit App
Pricing and availability
You can buy the NoiseFit Crew Pro smartwatch from Flipkart.com or gonoise.com starting today for a special launch price of Rs. 2,199. It is available in three colours: Classic Black (Leather), Classic Brown (Leather), and Jet Black.
Speaking at the launch, Amit Khatri, Co-Founder, Noise, said:
We at Noise always try to understand and meet our customers' changing needs and make their lives better. Our products give them great experiences and the NoiseFit Crew Pro is one of them. It has many features that our customers want in their smartwatches. We are sure they will like it a lot.