Microsoft introduces Bing integration into ChatGPT expanded Bing Chat more
During the Microsoft Build conference, Microsoft made significant announcements regarding the integration of Bing Search into ChatGPT, a widely-used plugin platform developed in collaboration with OpenAI and new plugin partners. Furthermore, they also unveiled the expanded integration of Bing Chat across Microsoft's copilots.
According to the company, these updates offer developers enhanced prospects and aim to deliver more captivating experiences for users, further advancing the ongoing transformation of search.
Bing Integration in ChatGPT: Enhancing Search Capabilities within Chat
Microsoft has announced the integration of Bing, its renowned search engine, into ChatGPT, offering a default search experience within the platform. This integration enables ChatGPT to provide more timely and up-to-date answers by accessing the web.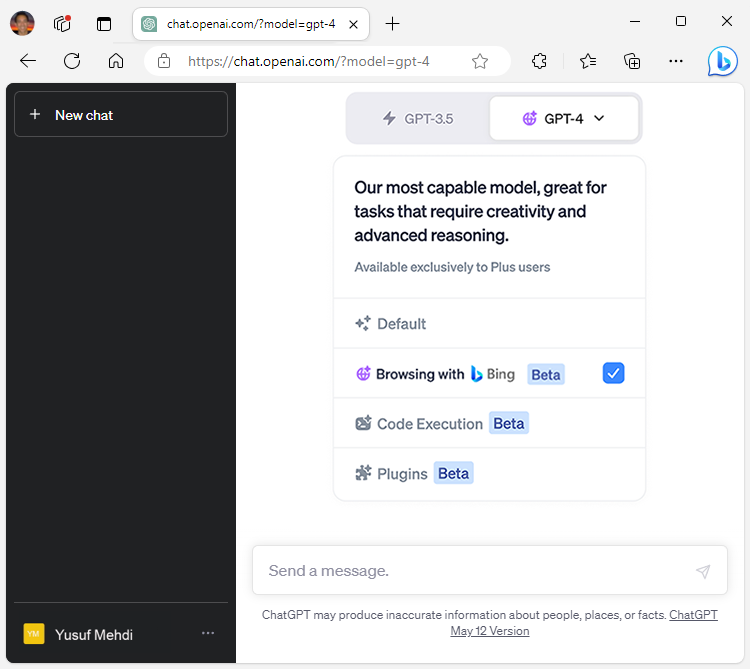 Enriched Answers: ChatGPT now incorporates web and search data, allowing answers to be grounded in reliable information. Citations will also be provided, facilitating further learning directly within the chat interface.
Enabling Interoperability: Microsoft and OpenAI Foster AI Plugin Ecosystem
Microsoft and OpenAI have joined forces to support and expand the AI plugins ecosystem, emphasizing interoperability. This collaboration allows developers to utilize a single platform for building and submitting plugins that function across various consumer and business interfaces, including ChatGPT, Bing, Dynamics 365 Copilot, Microsoft 365 Copilot, and Windows Copilot.
Bing's Expanded Plugin Support: Bing has extended its support for plugins as part of this shared platform. Alongside previously announced plugins for OpenTable and Wolfram Alpha, Expedia, Instacart, Kayak, Klarna, Redfin, TripAdvisor, and Zillow are now welcomed additions to the Bing ecosystem. These plugins seamlessly integrate into chat interfaces on desktop and mobile, offering relevant recommendations based on ongoing conversations.
Diverse Opportunities: The introduction of these plugins opens up new prospects for both developers and consumers. Here are a few examples:
Expedia: Travelers can enjoy conversational trip planning, enhancing their overall travel experience.
Instacart: Users can easily convert Bing's dinner menu suggestions into a shopping list and place an order for ingredient delivery from their
preferred grocery retailer. It enables adjustments and maintains control throughout the process.
Kayak: The plugin acts as a virtual travel assistant, offering Kayak's popular features in a conversational manner.
Klarna: Shoppers seeking advice and inspiration can benefit from highly personalized and intuitive experiences, including curated product recommendations and convenient shopping links.
Redfin: Users can describe their ideal home using everyday language, and Bing Chat will locate listings that match their requirements, simplifying the search process.
TripAdvisor: Leveraging the world's largest travel guidance platform, the plugin assists millions of users in becoming better travelers.
Zillow: Bing searches receive an added boost with comprehensive real estate expertise, providing additional housing and market information.
These integrations foster enhanced interactions and experiences, making AI plugins a valuable asset for both developers and consumers.
Windows Copilot: Empowering Windows 11 with Bing Chat Integration
Microsoft has introduced Windows Copilot, a feature that brings the capabilities of Bing Chat to Windows 11 in a more comprehensive manner. By leveraging the shared plugin platform with Bing and OpenAI, Windows Copilot enhances the functionality of plugins through Windows applications.
Announcing, Windows Copilot. Integrating the power of Bing Chat across all of Windows and all your apps. Windows Copilot creates a more personalized experience with relevant suggestions so you can take action quicker, complete tasks faster, and get more done.… pic.twitter.com/icy8VCFdiE

— Yusuf Mehdi (@yusuf_i_mehdi) May 23, 2023
Enhanced Chat Experience: With Windows Copilot persistently available alongside any app, users can easily access personalized answers, relevant suggestions, and perform quick actions. The same plugins that enhance the chat experience can be utilized within Windows Copilot.
Native Integration with Microsoft Edge: In addition to Windows, Microsoft also announced the native integration of its common plugin platform into Microsoft Edge. This integration solidifies Microsoft Edge's position as an AI-powered copilot for web browsing, being the first browser to incorporate AI-powered search capabilities.
To learn more about these advancements, you can visit the Windows Blog.
Rollout and Availability
The new Bing integration is initially available to ChatGPT Plus subscribers, with availability for free users expected soon. Users can enable the plugin to seamlessly bring Bing's search capabilities to ChatGPT.
Microsoft has also announced the upcoming support for plugins within Bing chat and the Edge sidebar, catering to both desktop and mobile users. These updates are expected to be rolled out in the coming weeks.
Speaking on the announcement, Corporate Vice President & Consumer Chief Marketing Officer, Microsoft, said:
We have done a lot of work to make Bing and Edge smarter with AI in the last 100 days. We see people using them in new and amazing ways. We are happy to share more news with you today. If you want to try the new Bing, go to bing.com and get the mobile app on your phone.