Meta Introduces New Parental Supervision Tools Facebook And Instagram
Meta has introduced new parental supervision tools on Messenger, aimed at supporting parents and guardians in overseeing their teens' activities. These tools, available through the Meta Family Center, offer insights and resources from experts without compromising the privacy of teens.
With these tools, parents can monitor their teen's Messenger usage, including the amount of time spent messaging and access to information about their teen's message settings. However, reading the actual messages is not possible.
The initial set of parental supervision tools on Messenger allows parents and guardians to:
Track the time their teen spends on Messenger.
Receive updates on their teen's Messenger contacts, privacy settings, and safety measures.
Receive notifications if their teen reports someone (Provided the teen opts to disclose that information).
Monitor who can message their teen, such as only friends, friends of friends, or no one, and be notified of any changes to this setting.
Monitor who can view their teen's Messenger stories and receive notifications if these settings change.
Meta plans to expand the Parental Supervision on Messenger by adding more features in the coming year. These enhancements will enable parents to help their teens manage their time and interactions while maintaining a balance between privacy and safety. It's important to note that these tools work with both unencrypted and end-to-end encrypted chats.
Furthermore, Meta emphasizes that these updates are part of their ongoing efforts to establish the Family Center as a centralized hub for parents and guardians. Through this platform, they can access resources and tools to manage their teens' experiences across Meta technologies and foster open dialogues about online lives.
Meta's Trials of New Messaging Features on Instagram
Meta is testing new privacy features in Instagram DMs to protect users, especially teens. They already display Safety Notices for adults exhibiting suspicious behavior when messaging teens. People over 19 cannot privately message non-following teens.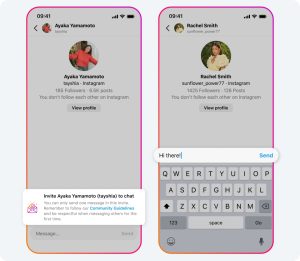 In the latest tests, before messaging someone who doesn't follow them, users must send an invite and wait for acceptance. Only one invite can be sent at a time. Additionally, message requests will be limited to text-only until the recipient accepts the chat invitation. These changes prevent the receipt of unwanted photos, videos, or media from non-followers.
Strategies for Teen Time Management on Facebook and Instagram
In an effort to promote healthy usage of their apps among teenagers, Meta has implemented various features aimed at helping teens manage their time on Facebook and Instagram.
One such feature is "Take a Break" on Instagram, designed to make teens feel good about the time they spend on the app. Additionally, teens will now receive a notification on Facebook after spending 20 minutes on the platform, encouraging them to take breaks and establish daily time limits.
Meta is also exploring a new nudge on Instagram specifically for teens. This nudge suggests that they close the app if they are excessively scrolling through Reels, particularly during nighttime hours.
Global Rollout of Quiet Mode on Instagram
Furthermore, Meta reminds users of the existing "Quiet Mode" feature on Instagram, which was introduced earlier this year, allowing users to focus and establish boundaries with their friends and followers.
Activating Quiet Mode disables notifications, indicates the user's activity status as "in Quiet Mode," and automatically sends an auto-reply to DMs. This feature will be globally available to all Instagram users in the coming weeks.
New Parental Supervision features on Instagram
Meta has introduced new tools for Parental Supervision on Instagram to provide parents with more visibility into their teens' experiences. The updates include:
Teens receive a notice encouraging them to add their parents as supervisors after blocking someone, emphasizing the value of parental guidance.
Parents can now see the number of mutual friends between their teen and other accounts, facilitating discussions about these connections.
Customization options allow parents to choose the specific notifications they receive and their frequency.
Announcing the updates, Meta posted:
Our goal with today's updates is to empower teens to take charge of their online experiences while providing parents with the tools they need to support them. We remain committed to working with parents and experts to develop even more features that benefit teens and their families.