Instagram rolls out globally Broadcast Channels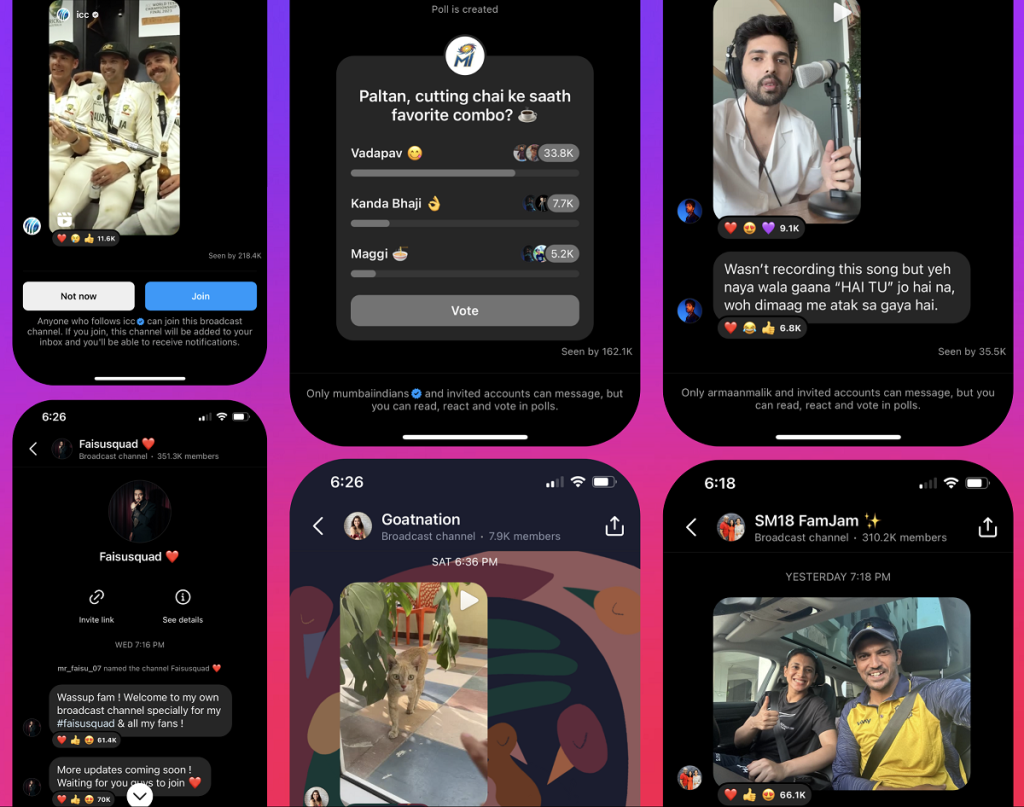 Meta-owned platform Instagram has introduced Broadcast Channels worldwide, enabling creators to forge stronger connections with their followers.
As part of Meta's ongoing support for creators, this feature allows direct and scalable engagement between creators and their audience. Earlier this month, WhatsApp also introduced "Channels" in Colombia and Singapore with global partners.
Instagram Broadcast Channels
Broadcast Channels were initially tested in February, providing creators with a public one-to-many messaging tool. Creators can share text, video, and photo updates, along with voice notes, behind-the-scenes moments, and polls to gather fan feedback. Messages are exclusive to creators, but followers can join in with reactions and polls.
Broadcast Channels in India
Instagram highlighted that Channels from popular Indian accounts such as MC Stan, ICC, and Mumbai Indians have amassed significant followings.
Key Features of Broadcast Channels
How It Works: Once a creator sends the first message, followers receive a one-time notification to join the channel. Followers who join receive update notifications, and they can leave or mute channels as desired. Additional notifications are only received if the channel is added to their inbox.
Joining a Channel: Followers can join a broadcast channel by accessing the channel link through a creator's Story sticker, the link on their profile, or via a one-time notification. Non-followers will be prompted to follow the creator upon joining.
New and Upcoming Features
Collaborators: Creators can invite other creators or fans to participate in their broadcast channels, facilitating engaging conversations with special guests. This feature is now available worldwide.
Question Prompts: Testing is underway for creators to gather feedback and responses from followers using question prompts.
Dedicated Channels Tab: Instagram is testing a dedicated tab in the inbox for joined channels and discovering new ones (not available in India yet).
Enhanced Control: Creators may soon have additional controls, such as setting expiration dates, adding moderators, and sharing links or previews in Stories to encourage follower participation.
Privacy and Safety
Instagram ensures that broadcast channels adhere to Community Guidelines, fostering a safe and inclusive environment. Users can report channels or content that violates guidelines. Instagram employs tools and reviewers to identify and review potentially violating content before it becomes visible to the public.
Announcing the updates, Instagram posted;
We're making Instagram broadcast channels available everywhere. This lets many creators talk to their followers in a new way. They can do this live and with lots of people at once. In the U.S., broadcast channels have been very popular. Fans love to see what creators are working on, answer their questions, and hear their voice messages. We can't wait to see what creators in other places do with broadcast channels.