Google Opens Access Search Labs Generative AI capabilities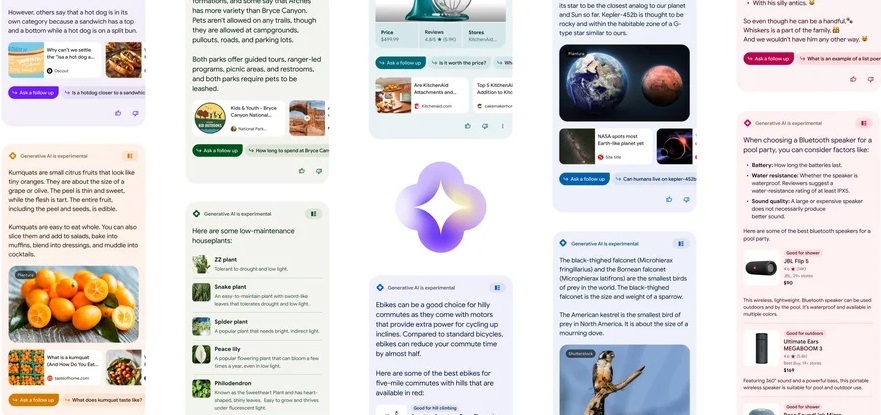 During its recent I/O event, Google provided us with a sneak peek into its preliminary endeavors in the field of Search. These explorations delve into the realm of generative AI, and you now have the opportunity to explore these innovative features through Search Labs.
Google Search Labs
Today, the company has unveiled the availability of Search Labs, a program that grants access to its early experiments. Once you're available for trying out the Search Labs, you'll experience a new and powerful Search with generative AI capabilities that make your searching easier.
It helps you grasp complex topics faster, discover fresh perspectives and insights, and streamline your tasks. Instead of sifting through a series of questions and assembling information yourself, Search does the heavy lifting for you.
Here are three ways the new generative AI can simplify your next search:
Quickly understand new or intricate subjects: Let's say you're comparing the ukulele and guitar to make a decision. Search provides an AI-powered snapshot that outlines the factors you should consider.
For example, if you're interested in starting your own business, searching for "Benefits of incorporating your business before freelancing" will give you a quick overview and links to explore further.
Find instant tips for specific questions: Sometimes, you have a precise question in mind and need diverse content from the web. If you discover an old wool sweater with a coffee stain, search for "How to get an old coffee stain out of a wool sweater?"
For example, if you have an upcoming international trip and your passport needs to be renewed soon, search for "How can I renew my passport quickly?" You'll get useful tips or different choices to help you further.
Explore products and considerations while shopping: Let's say you want removable wallpaper for your rental kitchen. Search for "Peel and stick wallpaper for kitchen" to learn about important factors like ease of removal and discover stylish options with prices, customer ratings, and purchase links.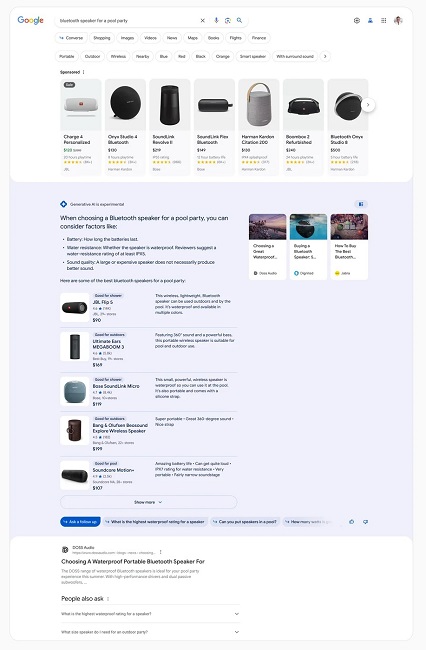 Similarly, searching for a "Bluetooth speaker for a pool party" will provide considerations such as water resistance and battery life, along with numerous options to choose from. You can also ask follow-up questions or select suggested next steps for more information.
Availability
If you've joined the waitlist at labs.google.com/search, you'll receive an email notification when you can begin testing Labs experiments such as SGE (Search Generative Experience), Code Tips, and Add to Sheets in the United States.
To participate in these experiments, just tap the Labs icon in the latest version of the Google app (available on Android and iOS) or on Chrome desktop to sign up. You can also visit the Labs website to check the status of your waitlist.
Speaking on the announcement, Soufi Esmaeilzadeh, Product Lead and Srinivasan (Cheenu) Venkatachary, Engineering Lead, said:
We are trying to make Search better with AI that can create things. This is our first try and we will keep working on it. We want to help you find what you need easily and quickly. We hope you like our new features and tell us what you think.