Garmin Instinct 2X Solar Solar Tactical Edition rugged GPS watches launched in India Price And Specifications
Garmin has launched the Instinct 2X Solar and Solar Tactical Editions in India, alongside the reintroduction of the Instinct 2 Series at new prices. This release follows the recent launch of Garmin Edge 540 and 840 Series earlier this month.
Garmin Instinct 2X Solar
The Instinct 2X Solar is a durable smartwatch with a custom two-window design and a built-in LED flashlight. It offers adjustable intensities and provides red or adjustable white light options for enhanced visibility and situational awareness during activities like camping or running in low-light conditions. In strobe mode, the light matches your running cadence, alternating between white and red for better visibility.
Key features of the Instinct 2X Solar include 24/7 Health and Wellness Tracking, advanced sleep monitoring, respiration tracking, Pulse Ox, built-in sports apps for various activities, Heart Rate Variability during sleep, improved positional accuracy with Multi-Band GNSS Support, built-in compass and barometric altimeter, TracBack routing, and a lightweight design.
The watch is water-resistant, scratch-resistant, and features a solar charging capability for extended battery life. It meets U.S. military standards (MIL-STD-810) for durability and reliability.
The Instinct 2X Solar introduces a new activity called Obstacle Course Racing, which combines running segments with various obstacles. The watch can track obstacle splits, providing detailed metrics such as the number of runs, run times, number of obstacles, time spent on each obstacle, run metrics, elevation profile, heart rate, and distance.
Quick specifications: Garmin Instinct 2X Solar
Garmin Instinct 2X Solar – Tactical Edition
It also includes a multi-LED flashlight with white and dedicated green illumination options. The green light helps users maintain their natural night vision during night operations.
The Instinct 2X Solar – Tactical Edition is specifically designed for tactical operations, offering features like Jumpmaster, tactical preloaded activities, projected waypoints, dual-position GPS formatting, Night-Vision Compatibility, and Stealth Mode for privacy and security.
Quick specifications: Garmin Instinct 2X Solar – Tactical Edition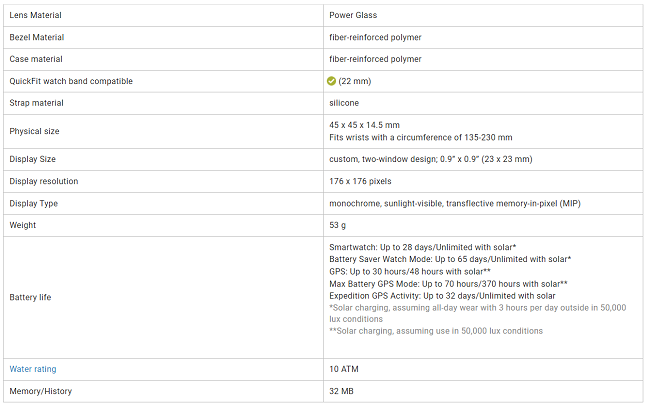 Pricing and availability
The Instinct 2X Solar series will be available on various platforms, including online retailers such as Amazon.in, Tata Luxury and Tata CLiQ, from today.
Additionally, customers can find the series at Garmin Brand Stores, Helios, Just in Time, and other reputable watch retailers for offline purchases.
Commenting on the new smartwatches, Sky Chen, Regional Director of Garmin for South-East Asia & India, said:
We're excited to launch the new Garmin Instinct 2X smartwatch series in India. They are stylish and useful watches that work with sunlight. They are made for people who love sports and nature. They are strong and beautiful. They have a clear screen, endless battery, and many features. They help explorers to reach new places.