Belkin SOUNDFORM Mini Wireless Headphones For Kids launched in India Price And Specifications
Belkin has introduced the SOUNDFORM Mini Wireless On-Ear Headphones in India for Kids, specifically designed for children. In the past, Belkin released accessories for the iPhone 14 series in India.
The SOUNDFORM Mini Wireless On-Ear Headphones for Kids prioritize safety and comfort for children, featuring adjustable headbands and cushioned cups designed specifically for their needs. With a weight of 240g, they are suitable for extended use.
These headphones are compatible with mobiles, tablets, and laptops, providing versatility for different devices. The built-in microphone enables children to communicate with teachers and friends while using their devices.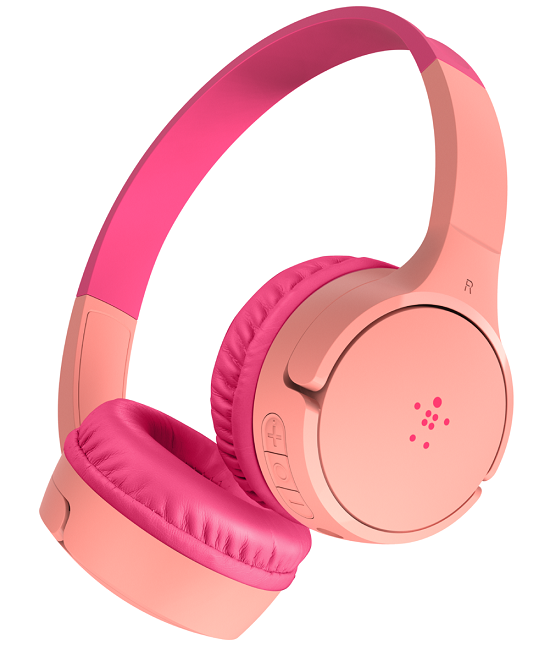 To ensure the well-being of children during prolonged listening sessions, the headphones have a volume cap of 85dB. They offer a battery life of up to 30 hours, allowing uninterrupted enjoyment of favorite sounds and videos. Additionally, they undergo durability testing for up to 2 years, providing protection against spills and accidents.
Equipped with Bluetooth 5.0 technology, the headphones have a range of 10 meters (30 feet). They also feature easy and intuitive controls designed for kids. If preferred, there is an option to connect directly to devices using the 4-foot 3.5mm auxiliary port and the included cable. The inline microphone included in the cable remains functional even when the headphones are running out of battery.
Quick specifications: Belkin SOUNDFORM Mini Wireless On-Ear Headphones for Kids
Premium headphones, designed for kids
28-30 hours battery life for nonstop listening
Maximum volume of 85dB protects kids' ears
Compatible with popular distance-learning apps and devices
Bluetooth v5.0
Built-in microphone
4-foot 3.5mm aux port and included cable
Spill and accident-proof materials for durability of up to 2 years
Intuitive controls are easy for kids to use
Dimensions: 17.7 x 16.21 x 19 cm; Weight: 240 Grams
Pricing and availability
The Belkin SOUNDFORM Mini Wireless On-Ear Headphones for Kids are priced at Rs. 3999 (MRP) and offer a variety of color options, including Black, Blue, Pink, and White. They can be purchased at Rs. 3599 from Amazon.in and Aptronix, and will soon be available on Flipkart and Croma.
Commenting on the launch, Kartik Bakshi, Country Manager, Belkin India and SAARC, said:
We made new wireless headphones called Belkin SOUNDFORM Mini. They are good for kids who listen to things for a long time because of school or fun. They are safe and comfy for their ears.