Apple unveils Vision Pro Spatial Computing headset that can controlled by eyes hands and voice
At the WWDC 2023, Apple introduced Vision Pro, which the company calls a spatial computer, and says that it seamlessly blends digital content with the physical space. It lets you navigate by using your eyes, hands, and voice without any physical controller. It runs visionOS, which Apple says is thee world's first spatial operating system.
Hardware
The Vision Pro has an ultra-high-resolution display system with each pixel is 7.5-micron wide accounting for 23 million pixels across two displays that can transform any space into a personal movie theater with a screen that feels 100 feet wide, and has an advanced Spatial Audio system.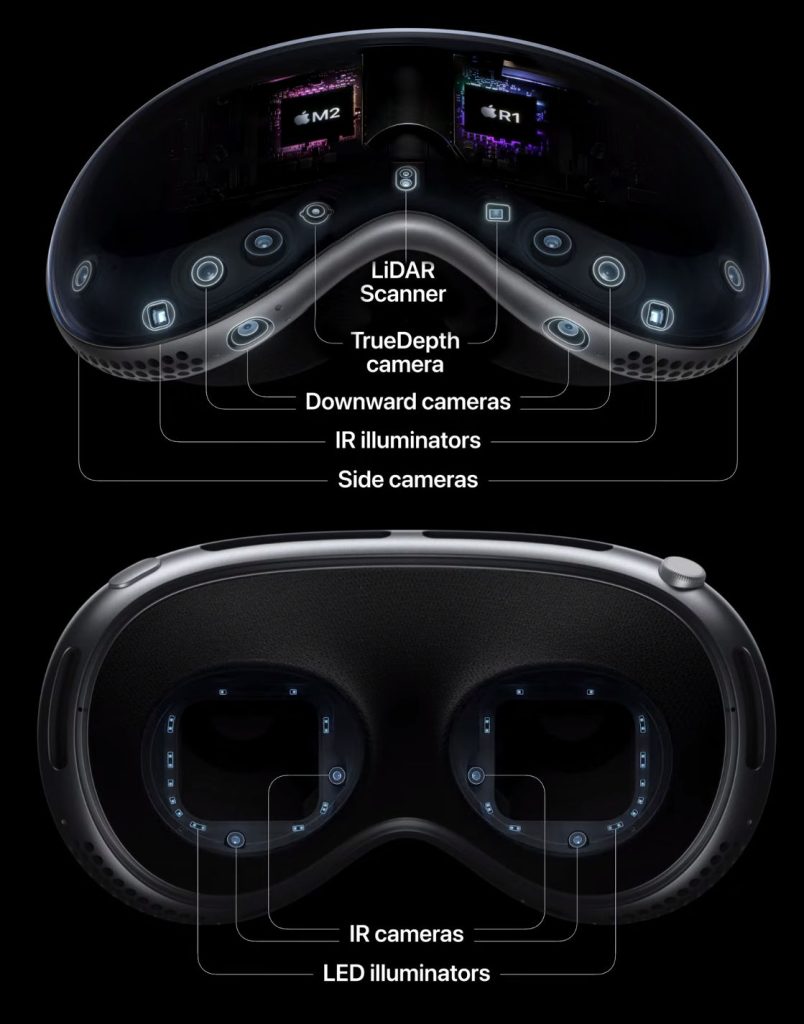 It has Apple M2 along with Apple R1 dual-chip that has been specifically designed for real-time processing of the real world. The Digital Crown lets a user control how present or immersed they are in an environment.
The top button makes it quick and easy to capture spatial videos or photos. When you're capturing a spatial video or photo, Vision Pro makes it clear to those around you that you're recording.
There are 12 cameras that includes two cameras pointing at the real world, and two cameras pointing downward to track your hands. There's a LiDAR scanner and a TrueDepth camera. It has five sensors and six microphones.
Inside, there are two IR cameras and a ring of LEDs to track your eyes. It has Zeiss Optical Inserts can be customized with your vision prescription, magnetically attaching to the lenses for precise viewing and eye tracking.
With the powerful hardware, every experience feels like it's taking place in front of the user's eyes in real time, says Apple.
Design
The Apple Vision Pro's enclosure is a singular piece of three-dimensionally formed laminated glass flows into an aluminum alloy frame that curves to wrap around your face. The Light Seal gently flexes to conform to your face, for a precise fit while blocking out stray light.
The 3D knitted Head Band with a unique rib structure that provides cushioning, breathability, and stretch. The Fit Dial lets you adjust Vision Pro precisely to your head. It is connected to an external battery supports up to 2 hours of use, and all-day use when plugged in.
The stereo speakers are positioned close to the ears, offering a Spatial Audio while keeping you aware of your surroundings. An outward display reveals the users' eyes while wearing Vision Pro, letting others know when they are using apps or fully immersed.
Apple said that it has developed a technology called audio raytracing for spatial audio and the Vision Pro analyses your room's acoustic properties — including the physical materials — to adapt and match sound to your space.
Software
The visionOS is built on the foundation of macOS, iOS, and iPadOS for spatial experiences. You can control Vision Pro with your eyes, hands, and voice. You just need to simply look at an element, tap your fingers together to select, and use the virtual keyboard or dictation to type.
App icons and buttons subtly come to life when you look at them. Simply look at the microphone button in a search field and start speaking to dictate text. Use Siri to quickly open or close apps, play media, and more.
In visionOS, apps can fill the space around you, beyond the boundaries of a display. They can be moved anywhere, scaled to the perfect size, react to the lighting in your room, and even cast shadows.
The EyeSight helps users stay connected with those around them. When a person approaches someone wearing Vision Pro, the device feels transparent — letting the user see them while also displaying the user's eyes. When a user is immersed in an environment or using an app, EyeSight gives visual cues to others about what the user is focused on.
Microsoft's Word and Excel and the Sky Guide planetarium app will be available. Disney+ will be available on Vision Pro on day one.
At launch, the Vision Pro will support hundreds of thousands of existing iPhone and iPad apps. The Vision Pro supports the Unity game engine to bring 3D apps developed using Unity to the platform.
Pricing and availability
The Apple Vision Pro is priced at $3,499 (Rs. 2,88,930 approx.) and will be available early next year on apple.com and at Apple Store locations starting from the U.S., with more countries coming later next year.
Customers can experience, and personalize, their fit for Vision Pro at Apple Store locations.