Apple unveils Cognitive Vision accessibility features for iOS and iPadOS
Apple has introduced new software features to make its products more accessible for people with various disabilities and communication challenges.
These features use the latest technology and on-device machine learning to ensure user privacy and show Apple's commitment to creating products for everyone. These are some of the new features that Apple has introduced to improve accessibility:
Assistive Access for Cognitive Disabilities
Assistive Access simplifies apps and experiences to reduce cognitive load for individuals with cognitive disabilities. It is designed to reflect the feedback from people with cognitive disabilities and their trusted supporters.
The feature provides a customized experience for Phone and FaceTime, Messages, Camera, Photos, and Music with high contrast buttons, large text labels, and tools for trusted supporters to tailor the experience. It also offers a visual, grid-based layout or a row-based layout for individuals who prefer text.
Live Speech and Personal Voice for Speech Accessibility
Live Speech allows users to type what they want to say, and it will be spoken out loud during phone and FaceTime calls or in-person conversations. Users can also save commonly used phrases for quick access.
Personal Voice lets users make a voice that sounds like them in an easy and safe way. It uses on-device machine learning to keep users' information private and secure and integrates with Live Speech.
Detection Mode in Magnifier with Point and Speak
Point and Speak in Magnifier helps people who can't see well to use things that have words on them. It uses the Camera app, the LiDAR Scanner, and on-device machine learning to say the words on each button as users touch the keypad. It also works with other Magnifier features that can tell users about people, doors, and pictures around them.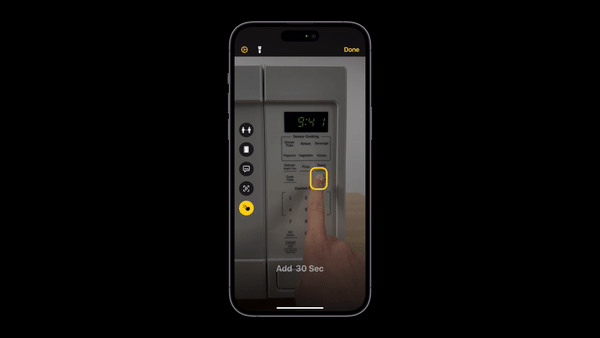 Additional features include:
Mac users who are deaf or hard-of-hearing can connect and adjust Made for iPhone hearing devices for their comfort.
Voice Control users can select the correct word from phonetic suggestions when editing text with their voice.4 They can also learn how to use voice commands instead of touch and typing on iPhone, iPad, and Mac with Voice Control Guide.
Users with physical and motor disabilities can use any switch as a virtual game controller to play games on iPhone and iPad with Switch Control.
People who have trouble seeing can adjust the word size in Mac apps such as Finder, Messages, Mail, Calendar, and Notes.
People who get bothered by quick animations can freeze images that have motion, such as GIFs, in Messages and Safari.
VoiceOver users can enjoy natural and expressive Siri voices even at high speech feedback rates; they can also choose how fast Siri speaks to them, from 0.8x to 2x.
Availability
The all-new accessibility features mentioned above for cognitive, speech, and vision accessibility are planned for release later this year.
Commenting on the new features, Tim Cook, CEO, Apple, said:
At Apple, we always think that the best technology is technology made for everyone. Today, we are happy to show you amazing new features that continue our long tradition of making technology easy to use, so that everyone can make, share, and do what they love.
Speaking on the announcement, Sarah Herrlinger, Senior Director of Global Accessibility Policy and Initiatives, Apple said:
Accessibility is important in everything we do at Apple. These amazing features were made with help from people with different disabilities at every stage, to help many kinds of users and let people connect in new ways.